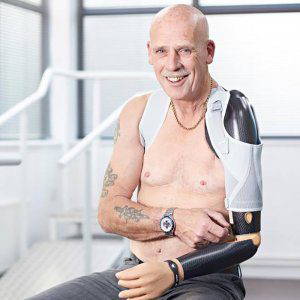 One life-changing moment for this Gloucester-man could lead to a momentous break-through
At the age of 17, and in a split second, Alex Paterson's life changed forever.
One moment, Alex was riding his motorbike. The next, he was careering face-first towards a roadside tree, an impact that would almost certainly have killed him.
Having lost control in the split second it took him to nod in the direction of a couple of friends he spotted walking by, Alex saw the tree in time to move his head out of the way. It still wasn't quickly enough.
Alex's neck bore the full brunt of the impact. The weight of Alex's passenger, riding pillion, unintentionally doubled the severity of the collision. It nearly tore a nerve from Alex's spinal cord, an injury that would almost certainly have killed him.
With severe spinal injuries, Alex was immediately operated on. After a number of operations, it was decided that Alex's arm should be amputated.
Alex's survival with such an injury put him in the lucky 1%. 95% of people would have died. The other 4% would have been left paraplegic.
A split second lapse. A chance to change the future
Now a father of three and grandfather of five, 56 year old Alex has lived in pain for nearly 40 years. For the scout leader, recognised for his work with Gloucestershire's Probation Service at the National Justice Awards and as a finalist in the Daily Mirror People's Awards, and for many other amputees, there is hope.
Plastic Surgeon Dr Kang, The Royal Free Hospital and Dorset Prosthetics are looking for a guinea pig for cutting-edge pioneering surgery called TMR (Targeted Muscle Innervation) and prosthetic technology that could help thousands of others. Alex fits their criteria perfectly.
The treatment will connect the patient after surgery to a computer using a contact array of pins, where new 'innervated' muscles will be taught to communicate with the brain. If successful, stage two of the treatment is to build prosthetics that can sync with the newly active muscle tissue. This would enable the patient to use their prosthetic in the same way able-bodied people use their limbs and therefore prosthetics will react to brain impulses intuitively – and would also reduce or stop completely the debilitating phantom pain many feel after amputation.
The six month rehabilitation treatment, not currently available on the NHS, will cost £6,000 – and Gloucestershire-based charity Superhero Foundation is hoping the community Alex has selflessly served will support both him and the many people whose lives the treatment could change.
"The type of scientific breakthrough you only see once every few decades"
Alex said,
"This pioneering treatment could be the chance I and other amputees have been waiting for to live fuller, happier lives. It's not just the mobility and function, it's the chance we might not feel the excruciating phantom pains I've been dealing with for the last four decades now. I've always been a grin-it-and-bear-it type, but I've seen children dealing with lost limbs and it breaks my heart.
"There are a few potential complications that could arise, and as an older man, father and grandfather, I'd sooner be the canary down the mine than a child. If all goes well, this could be the type of scientific breakthrough you only see once every few decades. I'm not typically one to ask for help, but if people could rally around this treatment and donate towards it, they'd make that split second's lapse worth every minute of pain I've felt since."
The challenge – and leaving his prosthetics behind
Over the weekend of the 9th-11th June, Alex and seven other climbers will be attempting The Three Peaks Challenge.
The challenge will see the group conquer the three tallest mountains in England, Wales and Scotland in under 24 hours to raise money for the treatment.
At the summit of each mountain, Alex will be burying three arm sockets he's relied upon for decades. In each, he will roll a copy of the story, in the hope future climbers might find them and be inspired by the unique time capsules.