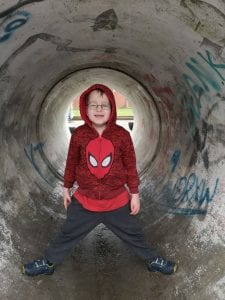 Eight-year-old Pokémon Master needs £150k for cancer treatment.
Dylan Mitchell may seem like a normal eight-year-old boy; he enjoys school, swimming and gymnastics, and he loves to play Pokémon Go with fellow level 40 Pokémon masters, mum Jess and brothers Elliot and Jake. But Dylan, from Aylesbury, has spent most of his life fighting an aggressive form of brain cancer.
In May 2014, at just two-years-old, Dylan was diagnosed with medulloblastoma.
Dylan was an average toddler, seemingly symptomless except for bouts of vomiting in the morning. But Jess knew that something wasn't right with her son's health. Jess attempted to negotiate further tests for Dylan with their family GP, only to be told that it was just a virus.
Trusting her instincts and seeking a second opinion, Jess took Dylan to A&E along with his then six-week-old brother, Elliot. Again, symptomless, Dylan was a ball of energy in the waiting room. Due to him presenting as a relatively happy, healthy boy, emergency triage left them waiting. However, Elliot just so happened to be sick – prompting staff to ask for the family to move elsewhere.
When Dylan was scooped up into his father's arms, his symptoms became alarmingly apparent. The unexpected change in balance caused Dylan to vomit, clutch his head and scream in pain.
Doctors opted for an MRI scan, which revealed a tumour the size of a golf ball in Dylan's brain, as well as three smaller tumors on his spine. He was rushed to Oxford's John Radcliffe Hospital for an emergency operation lasting over 10 hours.
In the years that followed, Dylan underwent a number of gruelling treatments, including multiple rounds of chemotherapy and radiotherapy which left him with profound disabilities. However, despite every effort to treat his cancer, Dylan relapsed in summer 2018.
Jess refused to give up hope, and began to raise money for an experimental treatment called MEMMAT, delivered through a port in Dylan's brain, to help him defy the odds.
Dylan is currently being treated with two chemotherapy drugs, however, only half of his medication is available through the NHS, with the other half needing to be mixed, transported and administered privately.
Jess is currently paying £3,000 every four weeks for Dylan's medical bills, with the potential for the cost to go up as and when Dylan's needs change.
The family is now looking to raise £150,000 in order to continue with Dylan's treatment – the drugs that are currently keeping him alive.
In an effort to draw attention to the family's fundraising efforts, single mum Jess, who works part-time alongside caring for Dylan and his two brothers, will be taking on a 25 mile walk.
Accompanied by friends and family, Jess will be walking to and around six of Dylan's favourite Pokémon-hunting parks on the sixth anniversary of his cancer diagnosis.
Supporting the challenges is real-life superhero Jamie McDonald from Gloucester, who last year, dressed as alter-ego Adventureman, broke the Guinness World Record for the greatest distance covered on a treadmill in 7 days, just weeks after finishing his 210 marathon, 5,500 mile run across the US.
McDonald, 32, is supporting through his charity Superhero Foundation, by both providing advice and enabling Jess to claim Gift Aid on all donations.
Jamie said,
"Every kid deserves quality of life and to spend as much time as possible with their family; that's all we want for Dylan. I hope that with our support, as well as support from the wider community, we can continue to help Dylan receive the treatment that he so desperately needs. In an ideal world, money for treatments shouldn't be a worry for anyone – until then, we'll continue to do what we do."
Jess said,
"If you met Dylan, you'd think he was just like any other little boy. He's a real tornado of energy most of the time and one of his favourite things to do is run around the park with his brothers playing Pokémon Go.
"Dylan really is my superhero – he has defied so many odds and continues to fight every single day. He's never given up on us, so we're not giving up on him. We'll do whatever we can to ensure Dylan has the longest and best possible quality of life."
So please donate as little, or as much as you can – or even – set up your own fundraising page, take on a challenge, and ask your family and friends to donate.
We're all about honesty at Superhero Foundation, so we want to let you know that when you make a donation to help Dylan hit target, 7.5% of it will go towards the core operating costs of the charity. It's a fee that means we can continue to support Jess on her mission to become a real-life superhero.
If we manage to exceed the original target, any extra funds will be used to benefit Dylan with her additional needs, in accordance with Superhero Foundation's charitable objectives. If for any reason the funds can't be used to further help Dylan, they'll be transferred to support another family.
We believe that everyone has the potential to become a Superhero – sometimes all that's needed is a little helping hand.