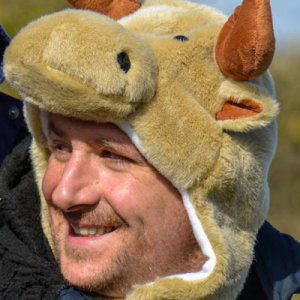 James, 37, is a welder and lives just outside of Gloucester with his wife Kate, who's a nurse, and two children. His three year old daughter Charlotte has cerebral palsy and has been wheelchair-bound for her entire life. There was an operation Charlotte could have, in America, that would enable her to walk. We're very proud to announce that the £20,000 target to get Charlotte out to the States for this life-changing treatment, was a huge success.
In a non-stop heroic feat, Dad James for more than 55 hours (covering 90 miles), trekked up and down Robinswood Hill in Gloucester until he climbed the equivalent of the height of Mount Everest. Only James' ascensions counted, meaning he needed to climb Robinswood Hill exactly 75 times in a row. The challenge pushed the everyday man, beyond his limits, in the hope that his daughter might walk.
James said "I couldn't of done it without my wife, Kate, who has been a rock throughout this entire fundraising journey. Although I did doubt myself whether I could complete the challenge, like any parent would know, you'd do anything for your kids. I'm just happy that Charlotte's life is pain-free."
Wife Kate said, "as a family and the money we needed to raise, I felt that we were in a dark hole and I felt depressed. They helped my husband, James, literally climb 'Everest' which brought in enough funds to send our daughter to the US for a life-changing op which has improved her life forever. We really feel a part of a proper superhero family with this charity and it has brought us so much happiness."
James' challenge reached millions of people across the UK, if you like to see more about the challenge you can visit ITV News, BBC News, the Mirror or listen in on a heart-felt recording from James, struggling on the hill via BBC Radio.