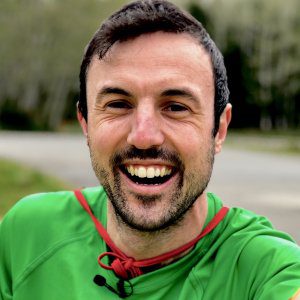 Pride of Britain winner announces new and enormous trans-US solo run!
Three years after the end of a 5,000 mile solo run across Canada, during which real-life superhero Jamie McDonald raised more than £250,000 for children's charities, the fundraiser has announced his next challenge at the Cheltenham Literature Festival. He will be running across the United States, again dressed as a superhero, Adventureman.
31 year old Jamie McDonald, from Gloucester, spent the first nine years of his life in and out of hospital with a rare spinal condition; syringomyelia. Combined with a very weak immune system and epilepsy, Jamie's health was very poor – his family feared he might lose his mobility altogether. At nine years old, and against the odds, his symptoms eased, allowing Jamie to slowly become more active.
For the last four years, Jamie, now 31, has been working tirelessly to give back. He's raised more than £500,000 for children's charities, hospitals and causes around the world throughout his many adventures. He was named as the Pride of Britain 'Fundraiser of the Year' for the west for his effort, among many other accolades.
In the time since his last adventure, Jamie has co-founded Gloucestershire-based Superhero Foundation, a charity that grants money to families for treatment not otherwise available on the NHS. He has also written the best-selling book 'Adventureman: Anyone Can Be a Superhero', the story of his life to this point – no mean feat for somebody that struggles with dyslexia, who retook his GCSEs aged 23. All proceeds from the book go to charity.
What Jamie did next:
On the 1st March 2018, following a book tour throughout Canada retracing his run (details here), Jamie will begin a marathon adventure journey likely to take him between 5,500-6,000 miles that will take him right the way across the United States. He'll run through more than fifteen states, beginning at the western-most point of the United States – Cape Alava in Washington. He'll travel through many others, including California, Texas, Tennessee, Washington D.C. and New York, on his way to the eastern-most point of mainland USA, West Quoddy Head Lighthouse in Maine.
Running by himself and without a support crew yet again, Jamie will battle through desolate and lonely deserts, sub-zero temperatures and the constant threat of wild animals, injuries and the uncertain elements.
Whereas Jamie ran dressed as the superhero The Flash throughout Canada, he'll be running as his alter ego Adventureman, in a custom-made costume designed by then-10 year old, Conner Reddy.
Jamie is hoping to raise £250,000 for Superhero Foundation, a charity that grants money to families and children's hospitals for treatment not otherwise available on the NHS.
He is hoping to raise a similar amount in the US – raising money for children's hospitals in each state he's travelling through.
The adventure is expected to take more than 10 months. He will stop at children's hospitals and schools along the way, delivering talks and meeting the children he hopes his donations will help.
More specific details about the (approximate!) adventure route can be found below. The route is around 5,318 miles (210 marathons) long – but it's likely Jamie will be going off-route often to visit as many hospitals and schools as he possibly can!
Jamie says,
"I've had an itch to get out again for the last few years, but was desperate to build something that could run alongside my adventures – and I massively underestimated the work that goes into something like that!
"I'm absolutely terrified, but also hugely excited at the same time to get back out and do what I love most all over again, challenging myself and meeting amazing people along the way. I do feel like there's more of an expectation on my shoulders this time though, that of course I'll complete this challenge, but being realistic, there's a good chance I will fail. It's a longer journey by a good dozen or so marathons and I'm not in the shape I was before Canada, after I'd done the cycling challenges. With only a year on my visa and 230 marathons to be completed – it's going to be a race against time."
He continued,
"I just hope I can raise enough money and make a difference to the sick kids and their families that we will be trying to help. And to also make everyone proud who have supported my adventures in the past. I'll just try my best."